About Us
Second Passport is the proprietors of Vanuatucitizenship.com and operate as government-authorized Citizenship By Investment consultants in five different countries. As a result, we are among the most trusted and experienced service providers in the Citizenship by Investment service industry. Learn more

How can we help?
From helping you to gather and prepare your documents and application, to supporting you during the verification period, and right through to its approval, we make sure your citizenship application runs smoothly and successfully.

Why Trust Us?
We've helped many clients achieve their dream of becoming Vanuatu citizens and can help you secure a second passport hassle-free. Thanks to the experience and professionalism of our consultants, you can be sure of our dedication, expertise, and exceptional value for money.
Our Guide to
Vanuatu Citizenship Program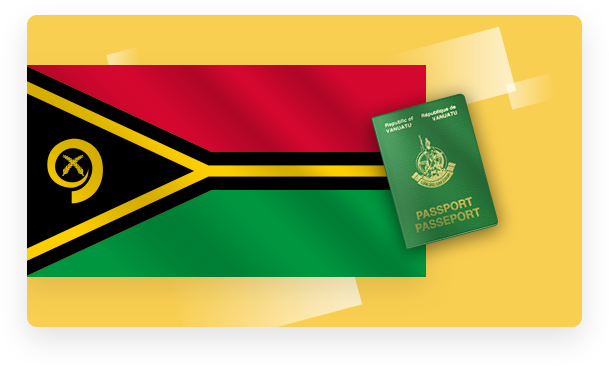 Are you looking for a high-value investment opportunity with lots of benefits? The Vanuatu Citizenship Program offers investors the opportunity to secure a second passport, access to a zero-tax country, and visa-free travel to 129 countries. In a little as 2 months and with an investment of just $130,000, you can become a Vanuatu citizen. Here are your options:
Single Applicant
$130,000 (+Fees and Charges)
Package: Husband, Wife & 2 Kids
$180,000 (+Fees and Charges)
Learn More
Country Overview
With 83 stunning islands, Vanuatu is a South Pacific Ocean nation stretching 1,300 kilometres. No wonder Vanuatu is now one of the most popular tourist destinations as well as a home for people seeking a permanent move to paradise.

Location
Vanuatu is located 500 miles (ca. 805 km) west of Fiji Island and combines 83 tropical islands just 1100 miles (ca. 1,770 km) east of Australia. The Vanuatu islands are famous for their stunning beaches, laid-back lifestyle, and friendly people.

Economy and Population
Before European colonization in the 18th century, the New Hebrides welcomed multiple waves of new inhabitants, each bringing a new language and culture. Today, Vanuatu is home to just over 307,000 people with most of them speaking the official language Bislama and some of the population speaking either English or French.
Two-thirds of the population live off small-scale farming with overseas finance and tourism, in particular, growing ever more central to the economy of Vanuatu.
Warning
: Undefined variable $style in
/home/vanuatu/public_html/wp-content/plugins/vanuatu-plugin/elementor/homepage-heading.php
on line
108
Applying for Vanuatu Citizenship
Warning
: Undefined variable $style in
/home/vanuatu/public_html/wp-content/plugins/vanuatu-plugin/elementor/homepage-heading.php
on line
108